It's no surprise that digital marketing trends have changed tremendously in the past 10, 5, and even 1 year. 2020 brought a huge shift in the way that businesses market to customers and especially the way that customers make purchases.
As we kick off 2021 it's important to stay up-to-date on the trends that are shaping the digital marketing field. COVID-19 changed how marketing takes place and these changes are most likely here to stay. By keeping an eye on these trends, you'll be more prepared to reach customers and make sales.
7 Digital Marketing Trends to Watch for in 2021
The first yearly marketing budget post covid will look very different.
As companies budget for the year, the budget for print media will be even lower than in previous years. With customers staying in and shopping even more online, the need for online advertisements and content will grow substantially. No more spending money on billboards, magazine ads, or physical branded advertisements like pens or t-shirts.
With online advertisements you are able to target customers more efficiently, saving businesses the money they were previously gambling on with print media. Your budget will look different, but this isn't necessarily a bad thing. A change in your marketing budget for 2021 means that you are keeping up with the times and adjusting to where the customers are shopping.
The way content is created will change.
With at-home orders extended throughout the country, employees are still primarily working from home. While this is more efficient for some industries, when it comes to creating content for advertisements or social media campaigns, it can be rather hard.
Because of COVID-19 limiting gatherings and large scale productions, marketers have to be creative when producing content. This change could see more animated photos and videos or contracting out work to photographers who can create content remotely. More of the leg work of organizing shoots, hiring contractors, securing props, and identifying the theme of the content can safely be done at home.
Changes to privacy settings will make it harder for businesses to target customers.
Companies like Apple are prioritizing their users' privacy, making it harder for detailed ad targeting, while companies like Facebook are struggling with attribution issues. These changes are meant to protect the customer but make it harder for small businesses to use digital advertisements to make sales. With this in mind, businesses will have to broaden the platforms they advertise on to make up for the difference and be more intentional with the advertisements you create. While it will be harder, digital advertising is still the number one form of marketing available and can be a vital resource in making sales.
Brands will have to work even harder to gain the trust and loyalty of customers.
2020 brought a whole range of issues that companies needed to address. How companies responded to COVID- 19, social, and political issues, had a big impact on customer loyalty. We saw customers refusing to shop at certain stores because of decisions and policies they made and we saw raving reviews all over social media because of customers being proud of the businesses they shopped at.
This same energy will continue in 2021. As marketers, it is our job to establish the trust we hope to gain in our customers. As you create campaigns keep in mind that you are trying to gain customers who will stick around and who will naturally evangelize your product to others. Your content should reflect that attitude and strive to help customers meet their goals, not just seeing them as wallets to purchase your products.
Companies that have aligned their beliefs in order to authentically connect with their audience on shared concerns see a greater sense of brand loyalty in their customers. Keep in mind that customers will know if you actually believe in what you are saying. Stay authentic to who you are, and as Larry Kim says in his article on marketing trends, "nurture your humanity."
Virtual events and meetings will continue to play a huge role in business.
If you are hoping that conferences or big shopping events will resume in 2021, you most likely will be disappointed. Even with the COVID-19 vaccine slowly rolling out, it will be a while before large events can run like normal. Thanks to video chatting services like Zoom and Google Meet, businesses can host events and meetings virtually. Businesses have also ramped up their online shop presence so that customers can easily purchase their products.
In 2021 we will see more virtual events that allow customers to have easier access to sales representatives and allow businesses to showcase products. This also means that businesses will have fewer expenses because they aren't having to facilitate in-person events. Embracing a new virtual world will only benefit you in making a profit.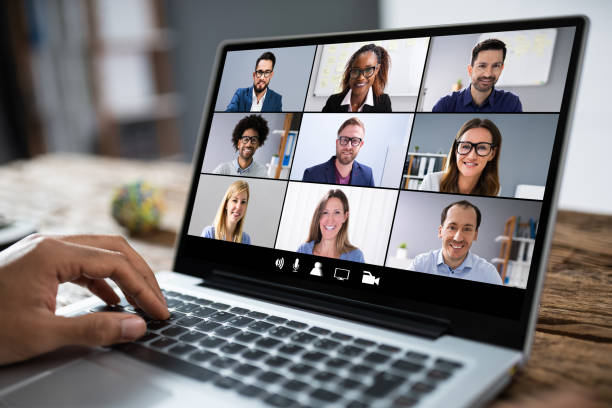 Interactive content will lead the game.
Instead of simply posting long-form articles or stock photos, businesses will need to reevaluate their content to see how interactive it is. The social media posts that see the most engagement are the ones that have external links, engaging photographs, short videos, or even an interactive poll.
With so many businesses competing for the attention of the customer, your posts have to be better than your competitors. A good video can make up for the lack of an in-person meeting and could be the deciding factor for a customer to visit your website and make a purchase.
More sales will be made through social media.
More time at home means more time scrolling on your phone and computer. When a customer follows your social media account you now have consistent access to them. You can target content that you think would entice them to make a purchase and interact with them through comments and messages.
Facebook and Instagram both give customers the ability to purchase directly from their account, instead of diverting to the website. The advantage of this is that you never lose the customer – they are consistently staying on your page, seeing your content. Adding your merchandise to these social platforms is an easy way to see an increase in sales and to potentially target a new set of customers.
The Future of Marketing in 2021
After reviewing these trends, one thing is abundantly clear: you have to meet your customers where they already are. That could mean creating a new social media profile, hosting a virtual event, or fine-tuning your content to increase engagement. The customer wants and needs come first and if you are successful in meeting those, you will make sales.
If you need help forming your marketing strategy, or creating content, let us know. We are here to help!
---